How to Edit a Channel's Name, Card Image, Description, Author, or Shared Users
After creating a channel, it's easy to edit or update a Channel's details.
The two ways to open the in-line Channel Details panel are:
From the AVAIL Home screen, right-click on the Channel you would like to edit, and select View Channel Details. This will open the Channel Details panel on the right side of the application.




Or, while in a Channel, hover over the right side of the Publisher Bar and select the Edit Channel button


The Channel Details Panel


Updating the Channel Name
Click directly on the Channel name in the Channel Details panel
Type in the name for the Channel
Select Save to update the name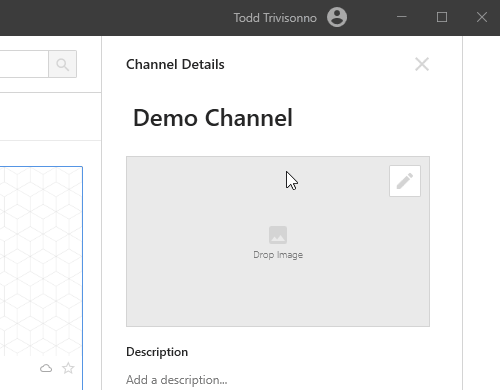 Updating the Channel Card Image
There are three options to set a Channel Card image.
Drag and drop an image onto Drop Image box



Select the Change Image button in the top right corner of the Drop Image box and browse to an image.
In the Channel, right-click on a piece of content and select Set as Channel Card Image
For more on Channel Cards, such as recommended dimensions, see our article Setting a Custom Channel Card Image
Updating the Channel Description
Setting a Channel Description is helpful as the description is included in search results.
Click on Add a description... or the existing description in the Channel Details panel
Type in the description for the Channel
Select Save to update the description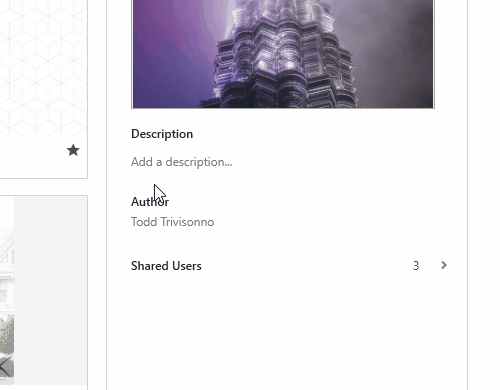 Updating the Author of a Channel
The Author of a channel is considered the creator of the Channel. The Author has the ability to edit the Channel and share with other users.
To update the Author, send an email to support@getavail.com.
In the email, include:
A request to update the Author of a Channel
The name of the Channel(s), or mention if all Channels by a particular Author should be changed
The current Author and who the new Author should be. Currently, the Author must be assigned to a user.
Updating the Shared Users on a Channel
Select the Edit Shared Users button to launch the Channel Members page

For more on sharing a Channel, see our article How do I share my Channel?