Creating Channels, the first layer of organization and context for your content
Channels can only be created in the AVAIL Desktop application.
Channels can only be created by users whose role is set to Publisher or Consumer Plus. Consumers will not see the button to create a Channel.
From the AVAIL Home screen, select the New Channel button
In the Create Channel menu, enter a name for your Channel

You can optionally add a Description and a Channel Card image to your Channel. Descriptions are helpful because they are included in search results. Channel Card images enhance the visual aspect of your Home menu and make it easier for users to find the Channel they are looking for.

Select Create Channel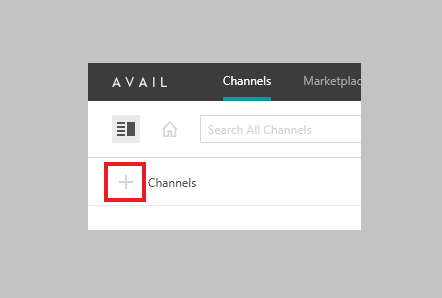 Additional Information about Channels
Channels help organize related content across your network. Channels are intended to be broader and more flexible than your typical file folder system. They are intended to adapt to and enhance your workflow. Common approaches to creating a Channel include:
Creating a Channel for a specific project
Creating Channels based on the type of content in the Channel (e.g., Revit Families, Revit Details, or Rhino Models)
Channels based on discipline, departments, or teams (e.g., Interior Design, Marketing)
Channels are private by default, meaning only you see and manage the content until you choose to share them with people on your team. Sharing your Channel allows others to view or edit the content within your Channel.
One way to think about Channels is like music playlists. You can create playlists for all sorts of different purposes, for short-term or long-term use, and personal or public consumption.
In this metaphor, "songs" would be your content. A song can live on as many playlists as you like, and you aren't creating duplicates of the song, simply references to wherever the file actually lives.
In the same way, when you add content to a Channel in AVAIL, you aren't creating a copy of that file in AVAIL, you are indexing a reference to that file, wherever it lives. Therefore you can put that content in as many Channels as needed and all instances are pointing to the same source file.