Reducing thumbnail loading times
The Virtualize Thumbnails feature is an AVAIL feature that allows you to serve thumbnails for select content via the new AVAIL Thumbnail Service. This can be an effective strategy for improving performance with cloud-hosted content in services such as Panzura, Nasuni, NetApp, etc., or for remote workers with limited internet bandwidth or slow corporate network access via VPN.
Aside from the significant improvement in load times for virtualized content in AVAIL, you will also reduce the incidence of blank thumbnails in your Channel. Content indexed into cloud services often fails to display thumbnails - unless cached on your local computer.
Virtualization eliminates this issue by extracting that thumbnail image. Publishers simply need to cache those images from their cloud service onto their local machine and run the virtualization service to see instant improvements in their end-user experience.
Virtualized thumbnails will be used for that content regardless of the Channel where it resides.

It is important to note that only Publishers can virtualize content. To enable this setting, within the Manage portal at https://app.getavail.com/manage, check that the Virtualized Thumbnail setting is switched to 'On' under the Settings tab.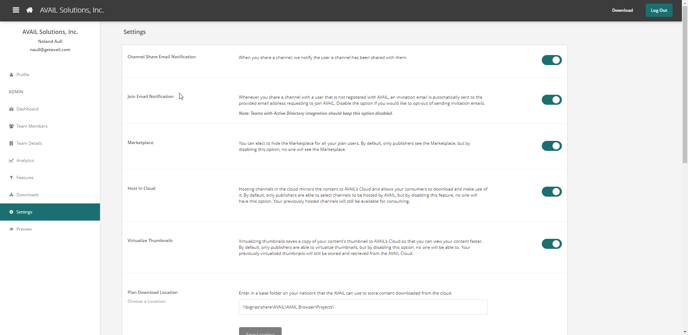 Virtualizing thumbnails is easy - just open the Channel you want to virtualize and look for the three-dot settings menu icon in the upper-right hand corner of the Channel window. Towards the bottom of the menu is an option for thumbnails - hovering over or selecting that option displays a 'Virtualize Thumbnails' and 'Delete Virtualized Thumbnails' option.

'Virtualize Thumbnails' opens the following prompt: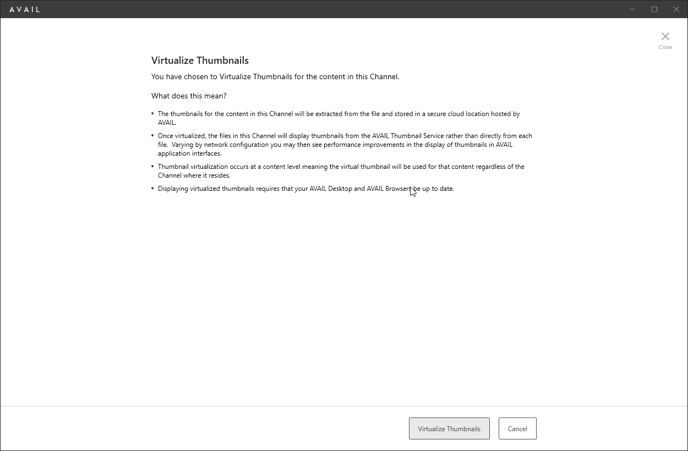 For more information on virtual thumbnails, please check out our recent
webinar