Reduce thumbnail loading times and create a consistent thumbnail experience using Virtualized Thumbnails
What is the Virtualize Thumbnails feature
Video Demonstration on Virtualizing Thumbnails
What is the Virtualize Thumbnails feature?
The Virtualize Thumbnails feature is an AVAIL feature that allows you to serve thumbnails for select content via our AVAIL Thumbnail Service.
What does this mean?
The thumbnails will be extracted from the file and stored in a secure cloud location hosted by AVAIL
Once virtualized, the file(s) will display thumbnails from the AVAIL Thumbnail Service rather than directly from each file.
Thumbnails virtualization occurs at a content level, meaning the virtual thumbnail will be used for that content regardless of the Channel where it resides.
Benefits of Virtualizing Thumbnails include:
Improve thumbnail loading performance with cloud-hosted content in services such as Panzura, Nasuni, NetApp, etc., or for remote workers with limited internet bandwidth or slow corporate network access via VPN.
Create a consistent thumbnail viewing experience for all users as the thumbnails are served from a single source, instead of being dynamically loaded from a user's machine
Reduce issues with thumbnails not being displayed by cloud-hosting services such as OneDrive

Content indexed into cloud services often fails to display thumbnails - unless cached on your local computer. Virtualization eliminates this issue by extracting that thumbnail image. Publishers simply need to cache those images from their cloud service onto their local machine and run the virtualization service to see instant improvements in their end-user experience.
How to Virtualize Thumbnails
To virtualize an entire Channel of content
Select More Options from the Publisher Bar
Go to Manage Thumbnails
Select Virtualize Thumbnails

A prompt will open, to confirm select Virtualize Thumbnails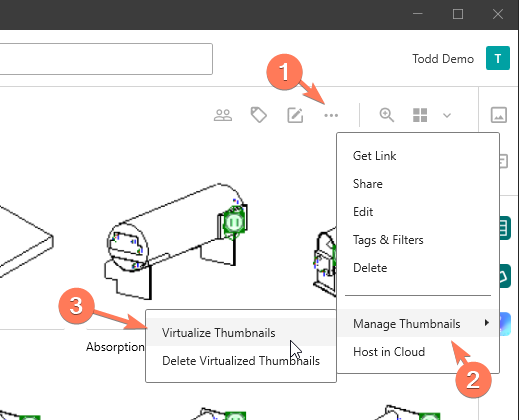 Note: This is a one-time process. If new content is added to the Channel, it will not be virtualized by default. The Virtualize Thumbnails process can be run across the entire Channel and all thumbnails will be updated.
Virtualized Thumbnails can also be removed by selecting Delete Virtualized Thumbnails.
To virtualize a single item or select group of content
Right-click on an item or multi-select and right-click
Go to Manage Thumbnails
Select Virtualize Thumbnails
What if I don't see the option to Virtualize Thumbnails?
Ensure that you have Edit permissions on the Channel
Ensure that the Virtualize Thumbnails feature has been enabled on your account.

This setting can be found in the Manage Portal under the Settings tab.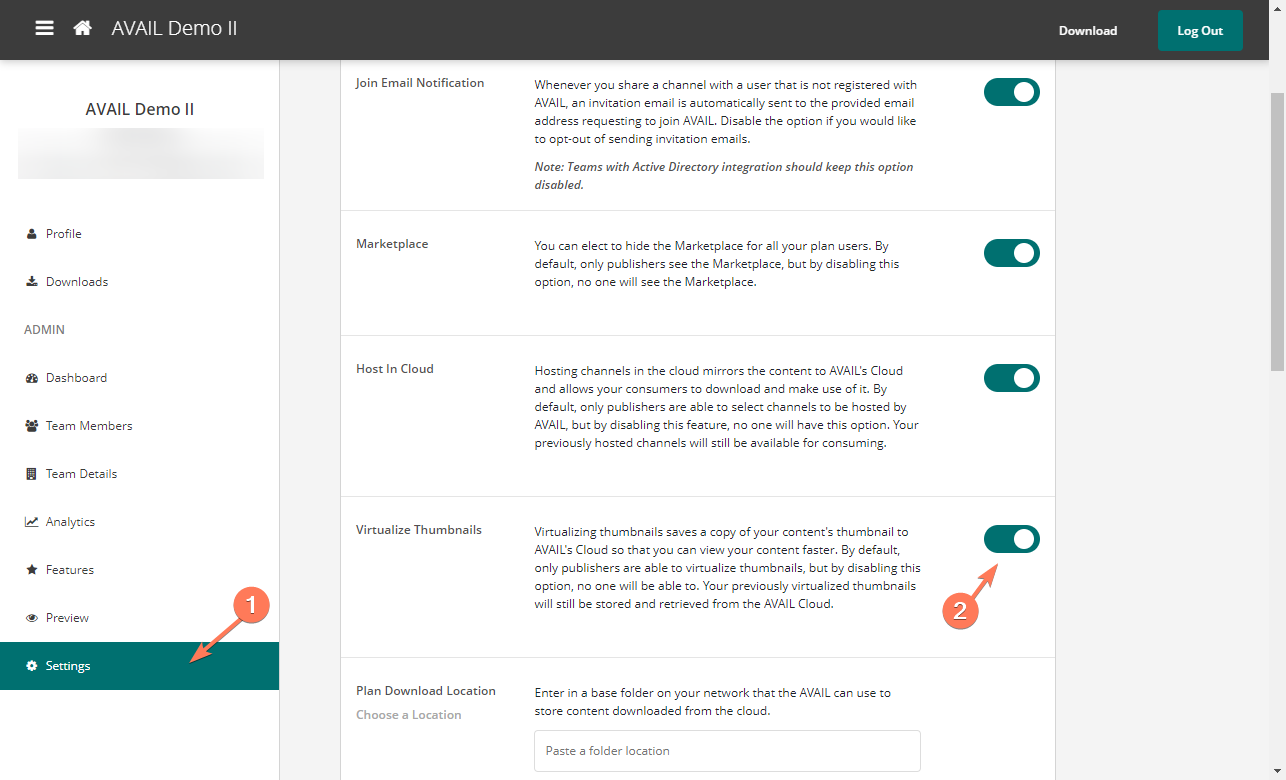 Video Demonstration
For more information on virtual thumbnails, please check out our recent
webinar