A collection of common questions about the Link Sharing feature, added in AVAIL Desktop 4.2.1.
What can I share via links?
You can link to either a single piece of content or to a Channel.
How do I get a link to share?
Right click on the item you want to share and select "Get Link".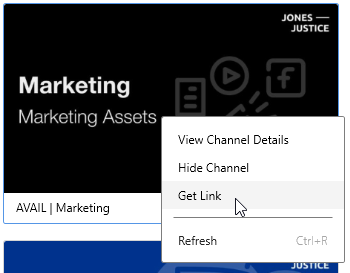 Afterwards, a message will appear when it has been copied to your clipboard.

Then you can paste the link wherever you choose.
Who can I share links with?
Links do not grant access to content or Channels. In order to open a link, you will need AVAIL Desktop version 4.2.1 or later, and already have access to that particular Channel or piece of content.
What happens when someone clicks on a link?
If the requirements from the above question are satisfied, AVAIL Desktop will launch and display either the Channel or the piece of content in the Content View.
I opened a link but nothing happened. What's wrong?
You may not have the correct version installed. Link sharing requires AVAIL Desktop 4.2.1 or greater.
I opened a link and AVAIL launched, but I got an error message.
You may not have access to that content or Channel. You will need to be given access to that particular Channel.
Do links work in the AVAIL Browser for Revit, Rhino, etc.?
For now, links will only be created in and opened by the AVAIL Desktop application.
Still having trouble? Feel free to reach out to our support!